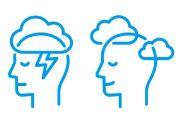 By now, we've all heard about the cost-of-living crisis and many of us are already feeling the pinch.
To make things worse, it looks like it's going to continue for a while.
Choices between "heating and eating" and keeping on top of household bills and all the other things we have to pay for, show no signs of letting up. We know this is starting to have severe effects on the mental health of our residents.
The first thing to do, is to try and not bottle up your feelings and seek help from your GP. It can also help to take the heat out of things by talking to someone you trust, like a family member or friend. They probably have similar feelings as you, and it's true to say that "a problem shared is a problem halved."
Please see below for some information which may help you.
SHOUT
All you have to do is text' Shout' to 85258. It is a free, confidential, and anonymous text support service, which you can text from wherever you are in the UK.
If anyone is struggling to cope and needs to talk, their trained Shout Volunteers are there for you, day or night.
They can help with anxiety and stress, depression or sadness, suicidal thoughts & self-harm. Further information can be found at www.giveusashout.org
HUB OF HOPE
When you log onto their website – www.hubofhope.co.uk –  all you need to do is put in your postcode and what type of support you require. When you click on 'show results', you will see a directory of support both local and national.
The website informs you of how far the support is from your address and gives contact details, addresses and a brief description of what they do.
For more cost of living support please click here